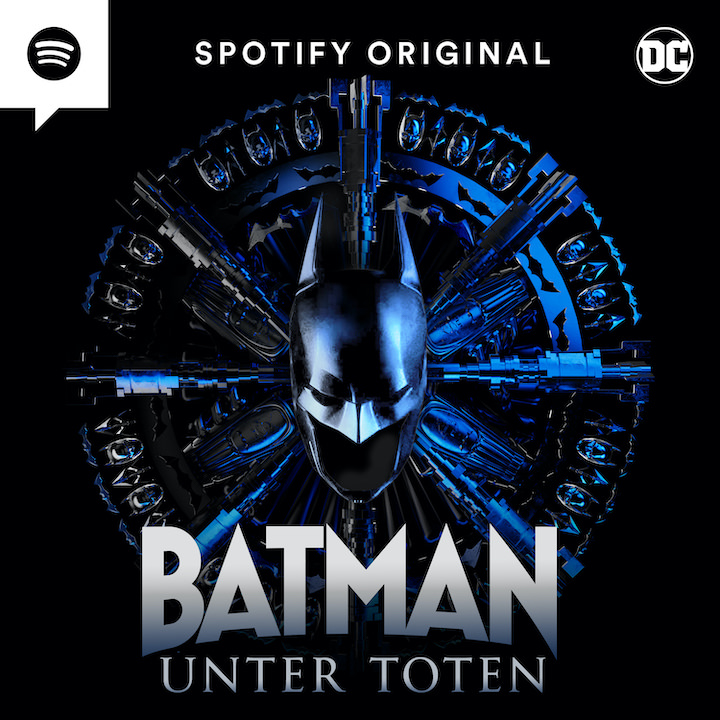 Batman Unburied (2022)
Customer: Pool Artists
On behalf of Spotify
Batman Unburied (original title) is a psychological thriller that takes listeners on a journey into the mind of Bruce Wayne aka Batman. Starting May 3, 2022, Batman Unburied will be released exclusively as a 10-episode podcast on Spotify. As part of a partnership between Spotify, Warner Bros. and DC spanning several years, Batman Unburied has been adapted into eight languages and released simultaneously in nine markets.
The German cast is top-notch. In the leading roles: Murathan Muslu (Batman), Justus von Dohnányi (Dr. Hunter), Lorna Ishema (Barbara Gordon), Tim Oliver Schultz (The Riddler), Maryam Zaree (Kell), Alexander Scheer (The Harvester), Nilam Farooq (Renee Montoya), Christoph Maria Herbst (Alfred), Lavinia Wilson (Vicki Vale) and Frederick Lau (Arnold Flass). The audio series was directed by Nilz Bokelberg.
WE ARE PRODUCERS was responsible for the entire audio production of the German version. This included the recording of over 60 speakers, dialogue editing, mixing and the creation of the German trailers.