Özge Yildiz has been on board at WE ARE PRODUCERS since October 4, 2022 and is completing a six-month internship with us as part of her studies at the School Of Popular Arts (SOPA). What Özge is doing and why she chose us is best told by her.
Özge, what is your passion?
My absolute passion is writing and listening. Writing because – it's simple I know – I love to dive into worlds and throw the reader into those environments. And I can say the same about listening – as long as we're talking about audio books or audio plays. I also really enjoy listening to podcasts. Of course, there are other passions I have as well. But if I list them all here, this would maybe become half a novel. :)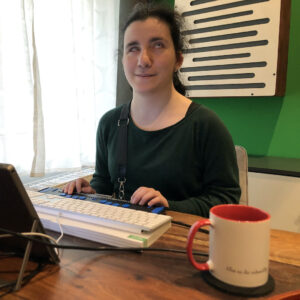 Podcast, good keyword. What are your favorite podcasts?
When I listen to podcasts, it's mostly audio dramas that are released as podcasts, like "Batman Unburied Another podcast that I really enjoyed was, for example, "Das Böse", a true crime podcast.
The internship is part of your studies. What are you studying and where do you want to go with it? 
Through writing, I got into the Creative Writing and Copywriting program, which I'm doing at the School Of Popular Ats (SOPA) in Berlin. I expect to finish my studies in the summer semester of 2024. Where do I want to go with this? That's a good question. I can't say at the moment, I'll let that come to me.
Why did you decide to do an internship with us?
I listened to productions you made, looked at your website and very quickly realized that you do very interesting things. I feel very comfortable with you and I am happy to do my internship with you.
What are you currently working on at WE ARE PRODUCERS?
I'm working on building various databases, such as a voice talent pool. I listen to recordings for podcasts, such as the podcast "Auf einen Tee". Besides that, I've been getting insights into directing the second season of "Lost in Neulich."
Thanks for doing the interview, Özge!